Hello Kitty Hudvård, Parfym och Makeup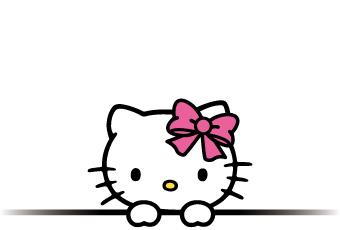 Hello Kitty har blivit mycket mer än bara en liten kattunge med gullig rosett och roliga morrhår. Denna stiliserade katt föddes redan 1974 i Japan men gjorde sitt segertåg över världen först runt millenieskiftet. I Japan anses katten ge tur och förekommer därför på otaliga produkter för barn och vuxna. Även i doft- och makeupvärlden har Hello Kitty gjort entré och företräder där olika serier som skiljer sig åt i dofter och estetiska ändamål.
Gulliga produkter med den söta kattungen
I första hand är det barn som faller för den lilla kattungen med sina klara färger och gulliga ansikte, men makeup och vårdande produkter vänder sig till vuxna. Under kosmetikamärket Hello Kitty förekommer också vissa närbesläktade produkter från Nemo, Barbie och Musse och Mimmi Pigg. Dessa vårdande produkter ståtar med de ikoniska figurerna och är en utmärkt present. Naturligtvis har de en god rengörande effekt, men den största behållningen är förstås förpackningarnas gulliga och lekfulla utstrålning i badrummet.
Visste du redan Innehåll
Hello Kitty-parfymer: En liten katt erövrar världen
Alla känner till den lilla katten, som visserligen inte har någon mun, men i gengäld en desto större rosa rosett på huvudet och helt ljuvliga knappögon. Denna fiktiva figur är ett märke som tillhör det japanska företaget Sanrio. 1975 dök Hello Kitty upp för första gången, då på en plånbok, sittande mellan en guldfiskskål och en mjölkflaska och över henne stod det "Hello" i röd text. Sedan dess har den lilla katten erövrat hela världen och det finns till och med Hello Kitty-parfymer och kosmetika. Men vad är det som gör denna lilla kattdam så speciell?
Värt att veta om Hello Kitty
Hello Kitty lyfter: Sedan 2005 finns det Hello-Kitty-jetplan. Dessa flygplan är utvändigt dekorerade med Hello Kitty-motiv. Det började med en taiwanesisk Airbus tillhörande flygbolaget EVA Air som huvudsakligen flög mellan Kina och Taiwan. Senare dekorerades ytterligare tre flygplan med Hello Kitty-motiv: en var dekorerad i Hello Kitty-stil – With Magic Stars, en bar temat Hello Kitty – Loves Apples och den tredje flög under mottot Hello Kitty – Around the world genom molnen. Flygvärdinnorna bar matchande Hello Kitty-uniformer och menyn var passande utformad efter den lilla katten. 2012 och 2013 blev ännu fler jetplan ambassadörer för Hello Kitty-märket: Hello Kitty – Happy Music, Hello Kitty – Speed Puff och Hello Kitty Sanrio Family hand i hand.
Lyckomaskot: Yuko Shimizu, designern som skapade Hello Kitty-katten 1974, sneglade under utvecklingen av figuren på den japanska kattrasen "Japanes bobtail" som enligt gamla sagor är lyckobringande. Kanske var tecknaren också förtjust i denna ras eftersom katterna ofta är trefärgade.
En lycklig kattfamilj: Officiellt är dock Kitty född i London, den 1 november. Där bor hon fortfarande tillsammans med sin tvillingsyster Mimmy och sina föräldrar Mary och George. Hon väger lika mycket som tre äpplen och är lika lång som fem staplade äpplen och givetvis har den lilla katten även ett hjärta av guld. I skolan är denna rosettälskares favoritämne musik, bild och engelska.
Kittys charmiga husdjur: Charmmy Kitty är en snövit perserkatt och är tillsammans hamstern Sugar Hello Kittys husdjur. Hennes pappa George och Kittys kompis Daniel gav henne katten som födelsedagspresent 2004. Eftersom ingen visste när den eleganta Charmmy Kitty hade födelsedag, bestämdes det att hon fortsättningsvis skulle firas den 31 oktober, en dag före Hello Kitty.
Hello Kitty har kul: Företaget Sanrio driver i Japan två nöjesparker tillägnade den vita katten med rosa rosett. Dessutom finns det i Taiwan även en förlossningsklinik som är dekorerad med Hello Kitty-motiv.
Hello Kitty-dofter och Hello Kitty-kosmetika i överblick
Med tiden lanserades utöver andra saker allt fler kosmetikprodukter som har blivit mycket populära inte bara bland barn och ungdomar.  
Star Wars duschgel
Black Magic Eau de Parfume Spray
Hello Kitty Charm My Kitty Boutique dusch/badskum
Charm My Kitty Boutique sminkväska
Charm My Kitty Boutique Magic Towel
Charm My Kitty Boutique 2-i-1 duschgel och schampo
Charm My Kitty Boutique Eau de Toilette Spray
Charm My Kitty Boutique skumbadfigur
Charm My Kitty Boutique Shower Gel / Balm
Hello Kitty Double Love ögonskugga
Hello Kitty Filly Lipbalm Topper
Filly flytande tvål
Filly 2-i-1 duschgel + schampo
Filly Shower Gel
Filly Magic Towel
Hello Kitty Flowers badskum
Hello Kitty Monster High Shower Gel & Shampoo
Monster High badskum
Monster High necessär
Monster High kroppspray
Monster High Magic Towel
Hello Kitty Peacock Eau de Toilette Spray
Peacock necessär
Peacock skumbadfigur
Hello Kitty Pink Love tvättlappar och Magic Towel
Pink Love Eau de Toilette Spray
Hello Kitty Pretty Peony Magic Towel
Pretty Peony Eau de Toilette Spray
Pretty Peony necessär
Hello Kitty Scribble necessär
Scribble Body Lotion
Scribble Girly Set
Hello Kitty Secret Love Shower Gel
Hello Kitty Make-up
Hello Kitty-set med läppmakeup (kan köpas till ett grundpris på 8,95 EUR alternativt även i större versioner).
Ögon ögonbrynspenna
Ögon ögonskugga
Läppar läppglans
Naglar nagellack
Flera produkter från Hello Kitty
Under de första åren efter lanseringen, producerades Hello Kitty-artiklar enbart för barn. Men katten blev snabbt så populär även bland vuxna, att man idag kan hitta Hello Kitty-motiv på alla möjliga saker. Några exempel:
Dockor
Godis
Kläder
Skrivsaker
Dammsugare
Brödrost
Datortillbehör
Bilar
Mobiler
Kreditkort
Gitarrer
Smycken o.s.v. Vidare finns det även flera Hello Kitty-serier på tv liksom även dator- och konsolspel.