Bestseller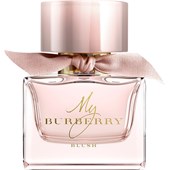 BurberryMy BurberryBlushEau de Parfum Spray
BP: 1 592 kr* / 100 ml
Parfym från Burberry
Burberry grundades år 1856 av Thomas Burberry. I dag går företaget efter principerna enligt brittisk…
Ta reda på mer!
Burberry Parfym
Burberry grundades år 1856 av Thomas Burberry. I dag går företaget efter principerna enligt brittisk design och står som synonym för innovation och mästerlig hantverkskonst. Under ledning av Chief Creative Officer och Chief Executive Officer Christopher Bailey har varumärket utvecklat en modern estetik och fortsätter samtidigt att vara sin unika tradition trogen.
Visste du redan Innehåll
Burberry-parfymer hos Parfumdreams.de
1856 grundade britten Thomas Burberry märket Burberry som är känt än idag och omåttligt populärt världen över tack vare dess trendiga märkesprodukter av hög kvalitet. Burberry erbjuder både eleganta damdofter och exklusiva herrdofter. Därför vill vi på Parfumdreams förstås inte undanhålla dessa intressanta doftkreationer för dig. På jakt efter en damdoft från Burberry?
Låt dig i så fall frestas av följande parfymer:
Body
Burberry Body Tender
Brit for Woman
Brit Rhythm Woman
Brit Sheer for Her
Burberry for Women
Burberry London for Women
My Burberry
The Beat for Women
Burberry Weekend for Women
När det gäller herrdofter kan vi erbjuda följande:
Brit for Men
Brit Rhythm Men
Brit Splash for Him
Burberry for Men
London for Men
The Beat for Men
Touch for Men
Detta stora urval av olika doftnoter gör att du kan hitta just den Burberry-touch som passar dig perfekt.
Body Tender eau-de-toilette-spray
En av de mest älskade eau-de-toilette-produkterna för kvinnor är Burberry Tender som lanserades 2013. Den fruktiga chypresdoftnoten, liksom även toppnoten av malört, citron, persika och äpple samt mellannoten av rosor, sandelträ, jasmin och te väcker beundran. Basnoten sprider friska nyanser av kaschmirträ, mysk, vanilj och ambra. Denna Burberry-parfym står för ungdom, hopp och energi, vilket framgår tydligt av den moderna flaskan.
"Brit Eau de Toilette for Women Burberry" rymmer de mest eleganta doftämnen och tappas på en flaska med en omisskännlig brittisk look.
Doftnot: orientalisk Toppnot: citron, malva Mellannot: mandel, pion Basnot: vanilj, tonkaböna.
Brit for Women finns dessutom att få som "Rhythm Eau de Toilette" och "Sheer Eau de Toilette".
Burberry London for Men and Women Den klassiska Londondoften "London Eau de Toilette" finns för både honom och henne. I den blommiga damdoftens toppnot döljer sig mandarin, ros och kaprifol, i mellannoten anar vi nyanser av tahitigardenia, jasmin och pion och basnoten bjuder på mysk, vanilj och patchouli. Med denna eau-de-parfum för ett grundpris på under 130 EUR per 100 ml får du en fräsch sommarkänsla. Herrdoften i sin tur imponerar med en kryddig, orientalisk doftnot samt en toppnot med bergamott, lavendel, viol och peppar. Mellannoten består av läder och mimosa och i basnoten kan man ana doften av tobaksblad, ekmossa, guaiacumträd samt opoponax. Denna EDT Men Burberry är en parfym som lätt kan bäras såväl av den elegante affärsmannen som idrottaren. Du kan köpa "Burberry EDP Parfum Spray" separat eller som presentset vilket gör att den lämpar sig utmärkt som gåva.
Denna parfym kan du även köpa i vår onlinebutik:
I vår butik hittar du inte bara Burberry-dofter som "Rhythm Floral", "Weekend Eau de Toilette", "Beat Eau de Toilette" eller den jättepopulära "Burberry Body", utan även andra utsökta dofter från andra märken. Passa på att köpa förstklassig parfym från exempelvis Paco Rabanne, Lancôme eller Biotherm. Låt dig övertygas redan nu av vårt breda sortiment.