Parfym från Atkinsons
Varumärket har utvecklats från den stora tradition som startade år 1799 i London av bröderna James o…
Ta reda på mer!
Atkinsons Parfym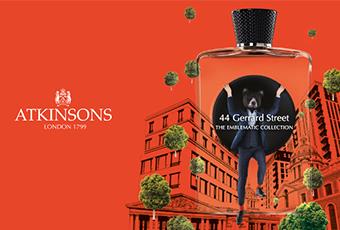 Varumärket har utvecklats från den stora tradition som startade år 1799 i London av bröderna James och Edward Atkinsons, som arbetade som parfymörer och som snabbt blev kända för sitt björnfett som parfymerats med rosenolja. Sedan första början bygger framgången hos J. och E. Atkinsons på det ständiga sökandet efter djupa värden. Tack vare de välgörande ingredienserna från fjärran länder i Orienten blir varje moment av kroppsvården till ett rituellt ögonblick vid sökningen efter ett äkta välbefinnande.
Visste du redan Innehåll
 Atkinsons – det anrika företaget med en björn i logotypen
1799 lämnade James Atkinsons det lantligt idylliska Cumberland för att bege sig till det skimrande London. Hans ovanliga följeslagare var en tvättäkta björn. Nedpackat i sin ryggsäck medförde James Atkinsons även olika recept på dofter, toalett- och kosmetikartiklar. James Atkinson skulle inom kort tillsammans med sin bror komma att bli en av de mest efterfrågade parfymörerna i det brittiska kungadömet och rentav nästan hela Europa. Hans brummande följeslagare visade sig föra tur med sig och kom att bli företagets maskot och logotyp. Företaget Atkinsons första försäljningssuccé var en hårpomada tillverkad av björnfett och parfymerad med rosenolja. Än idag, över 200 år senare, står namnet Atkinsons som ingen annan för brittisk dandyism och tidlös elegans.
Från det brittiska hovet till hela världen
På 1800-talet var Atkinsons globalt marknadsledande. Väldoft från huset Atkinsons var hett eftertraktad i London. Välbärgade damer och herrar köade i timmar utanför butiken på 44 Gerrard Street. Redan 1832 upphöjdes James Atkinson till officiell hovparfymör och hans kreationer påbörjade ett segertåg inom adeln i hela Europa. Högt uppsatta personer, från Napoleon och prins Tomasi di Lampedusa till den ryska tsaritsan Alexandra Fjodorowna, eftertraktade de mästerliga doftbuketterna från Atkinsons. Detta resulterade i att butiker världen över vill ta in de båda brödernas produkter i sitt sortiment. Än idag är Atkinsons dofter oförlikneligt lyxiga. Och det är knappast någon överdrift att påstå att man med Atkinsons, åtminstone rent luktmässigt, sprejar på sig "the very essence of England".
Atkinsons-kollektioner i korthet
Gör en djupdykning i den eleganta London-andan och utforska hela doftpaletten från detta anrika företag i vårt onlineparfymeri. Vi erbjuder följande kollektioner:
The Oud Collection
The Legendary Collection
The Emblematic Collection
The Contemporary Collection
Home Collection
The Grooming Collection
The Oud Collection – helt enkelt kungligt
Med Atkinsons The Oud Collection får man uppleva atmosfären från det flärdfulla 20-talet. Dessa två dofter för Queen och King ger ett överdådigt, men samtidigt elegant intryck, så att du kan unna dig lite kunglig glans varje dag. Basen i den raffinerade damdoften Oud Save The Queen består av essenser från bergamott, nejlika och grönt te. Jasmin- och apelsinblommor lyfter fram en milt feminin charm. Djup och dominans får doften genom exotiska essenser av tonkaböna, guajakträ och agarträ. Herrdoften Oud Save The King ger ett minst lika konungsligt intryck. Här förenas orientaliska inslag av handskördat Earl Grey-te med bergamottens fräschör. Varmt ädelträ gifter sig med lädernyanser och förlänar med stilsäker elegans doften den oumbärliga manligheten.
The Emblematic Collection – för den moderne dandyn
I The Emblematic Collection förenar Atkinsons typiskt brittiska doftnyanser. Rökig whiskeyarom lättas upp med hjälp av rustika nyanser av ene och blommiga inslag. Den excentriska doften rundas av med en fläkt av English Breakfast Tea. Denna manliga kollektion för den moderne dandyn omfattar såväl en eau-de-cologne-spray, för de speciella stunderna i livet, som duschgel, lyxtvålar och kroppslotion för dagligt bruk.
The Grooming Collection – lyxig rakvård
En vårdad dandy har förstås skägg och ett sådant måste förstås ansas och vårdas ståndsmässigt. Därför har Atkinsons skapat The Grooming Collection. Denna innehåller lyxig rakvård som är betydligt mer än bara enkel aftershave.
The Legendary Collection & The Contemporary Collection – mellan då och nu
Gör en tidsresa i första klass med dessa två kollektioner från Atkinsons. I Legendary Collection återuppfinns traditionella doftkreationer från Atkinsons. Från sensuellt till rökigt-kryddigt omfattar kollektionen hela spektrumet av luktmässiga nyanser. Eleganta damdofter och extravaganta herrdofter gör att The Legendary Collection verkligen förtjänar att kallas legendarisk.
The Contemporary Collection är däremot lätt, fräsch och modern, men inte ett dugg mindre brittisk för det! Doften Posh on the Green för män ger associationer till skotska golfbanor och All England Club i Wimbledon. Sportig och manlig garanterar ger denna herrdoft ett distinkt intryck. Damdoften Rose in Wonderland överraskar med fruktiga och kryddiga nyanser. En spännande feminin doft för henne som skulle kunna förtrolla även Alice i Underlandet.
Atkinsons hos Parfumdreams
Ädla dofter för nobla näsor hittar du hos Parfumdreams. Upptäck dessutom även lyxiga vårdande produkter och utvalda doftljus i Atkinskons förnämliga kollektioner.