Penhaligon's Hudvård och Parfym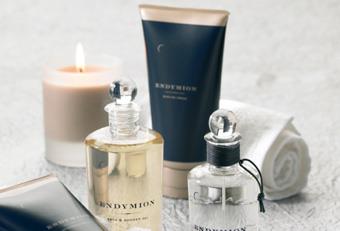 Brittisk elegans möter turkisk badkultur
Så skulle man kunna beskriva Penhaligon's förstklassiga parfym. Men Penhaligon's är så mycket mer än bara en parfymlinje. Barberaren William Penhaligon kom till London i slutet av 1860-talet och lyckades snabbt med konststycket att bli drottning Victorias hovbarberare och parfymör. Så det var inte särskilt förvånande att den barberarsalong han startade 1870 blev otroligt framgångsrik. Barberarprodukter av yppersta kvalitet liksom exklusiva barberarprodukter gjorde snabbt William Penhaligon till Londonsocietetens favorit. Det internationella genombrottet kom med herrparfymen Hammam Bouquet, som Penhaligon inspirerats till efter ett besök på ett turkiskt bad. Därifrån fick han också idéer till de förstklassiga rumsdofterna, ljusen och den berömda badlinjen.Kvinnor och män lockas i lika hög grad av de exklusiva ingredienserna, de underbara dofterna, de fina aromerna och ljusen som alltid bidrar till att skapa en härlig miljö. Penhaligon's erbjuder också olika förstklassiga presentset för dig som vill utforska sortimentet – ett sätt att visa sin uppskattning för nuvarande och blivande kunder.
Visste du redan Innehåll
Penhaligon – ett anrikt parfymhus
Penhaligon's är ett exklusivt parfymhus som grundades redan 1860 och vars förnäma kundkrets bland annat omfattade drottning Victoria. Den imponerande företagshistorien började med William Henry Penhaligon som öppnade en frisersalong på Jermyn Street i London. Snabbt upptäckte han sin passion för parfym och började utveckla nya och unika dofter.
Hammam Bouqeut skapade han 1872 och denna doft kom att bli William Henry Penhaligons första stora framgång. Sedan följde flera framgångsrika dofter, t.ex. Blenheim Bouquet 1902 och Fern 1911.
Tack vare att salongen gick så bra kunde William Penhaligon snart öppna ytterligare en rörelse på James Street i London. På sent 1920-tal flyttade företaget huvudkontoret till Bury Street i London och medan butikerna på James Street respektive Jermyn Street totalförstördes i blitzen andra världskriget klarade sig affärsfastigheten på Bury Street helt oskadd.
Fortsatt framåt marsch
Trots att förlusten av de båda butikerna utgjorde ett stort bakslag för Penhaligon's, återhämtade sig företaget snabbt och med hjälp av den italienska filmregissören Franco Zeffirelli kunde Penhaligon's inom kort öppna ytterligare en butik i Covent Garden. Med de hemliga recepten från William Penhaligons dödsbo och med nya unika dofter utvecklades parfymen Bluebell som än idag är en av företagets absoluta bästsäljare.
Med tiden kunde man öppna flera nya butiker, blanda annat på Regent Street, Mayfair Street och Kings Road i London. Nyligen har man även öppnat en andra butik i Covent Garden. Företaget är idag ingalunda begränsat till London, utöver filialer i Edinburgh, Cambridge och Chester är Penhaligon's också representerat långt utanför Storbritanniens gränser. Paris, Hong Kong och Singapore är bara några av alla de städer där du kan hitta Penhaligon's butiker.
Idag ägs Penhaligon's av Puig Company som är ett internationellt framgångsrikt företag inom mode och dofter. Med över 4 000 sysselsatta och en omsättning på mer än 1,5 miljarder EUR är Puig Company en mycket betydande aktör inom mode- och parfymbranschen.
Våra rekommendationer när det gäller Penhaligon's:
Penhaligon's Artemisia eau-de-parfum-spray 100 ml – Artemis kallas mångudinnan och enligt myten besökte hon varje natt kung Endymion, utan att han visste om det. Denna förbindelse resulterade i flera barn som kan skådas som stjärnor på natthimlen. Lika mycket mystik som denna berättelse rymmer, lika mycket mystik har denna parfym att bjuda på. Här tycks man ha förenat det bästa från alla epoker för att skapa en doft vars söta och sensuella noter förför alla sinnen.
Penhaligon's Endymion eau-de-cologne-spray 50 ml – som en hyllning till kungen med samma namn är denna doft en mångfasetterad parfym som förkroppsligar kraft, passion och odödlighet. Den fräscha och moderna doften sveper mjukt in bäraren i bergamott, mandarin och mysknoter.
Penhaligon's Opus 1870 eau-de-toilette-spray 100 ml – Penhaligon's parfym skapades som en hyllning till grundaren och är en unik komposition av kryddig koriander, eldig peppar och mjuka komponenter som sandelträ, rosor och kanel. En mycket sensuell och passionerad doft.
Penhaligon's Blenheim Bouquet eau-de-toilette-spray 50 ml – doften skapades till hertigen Marlborough och uppkallades efter släktens pampiga herresäte, det kända slottet Blenheim Palace. Doften kom snabbt att bli Winston Churchills favorit. Den klassiska doften är modern även med dagens mått och med inslag av citron, lavendel, mysk och exklusivt trä är den full av värme och fräschör.
Penhaligon's Lily of the Valley eau-de-toilette-spray 50 ml – med doftnyanser av liljekonvalj är detta en parfym vars doft andas kärlek. En ljuv och fräsch doft som framhäver kvinnligheten samtidigt som den betonar dess styrka.
Utöver dofter stoltserar Penhaligon's även med många andra produkter som ger välmående, t.ex. duschgeler eller hand- och kroppslotioner. Även exklusiva puder- eller aftershave-produkter återfinns i Penhaligon's sortiment. För den som vårdar sitt skägg ömt erbjuder Penhaligon's även flera mustaschvaxer. Så kan man vara säker på att alltid ha ett vårdat och diskret väldoftande skägg. Penhaligon's enskilda dofter går även enastående bra att kombinera med varandra – det är mödan värt att prova!